06 Jan
On 04th January 2021, the firm celebrated its 40th anniversary. Having transformed from a one-solicitor- one-secretary-and-one-typewriter firm, Chee Siah Le Kee & Partners is presently home to over 60 staff members. To many, Chee Siah Le Kee & Partners is more than just a work place. It is a place where you come across not just superiors or colleagues, but rather people whom you can call confidantes, journeying through with you all trials and tribulations of life.
The firm has organized a small celebration for fellow staff members to come together on this special day. After a sumptuous lunch, fellow staff members gathered at Ground Floor of the firm as our Consultant, Dato' Chee Kong Chi and our Managing Partner, Datin Siah Li Mei welcomed us in to the new year with their respective addresses.
As the fellow founding partners, Dato' Chee Kong Chi, Datin Siah Li Mei, Ms. Le Wat Su and Mr. Kee Tong Kiak unveiled the banner prepared in conjunction with the firm's 40th anniversary at the firm's library, fellow CSiLKians cheered in the rain of glistening confetti.
On this special day, in recognition of the senior staff members' years of dedicated service, the Firm had given out long-service awards and gifts to Ms. Chew Bee Hong, who has witnessed the firm's growth for 40 years since its inception in 1981, Ms. Molly Tan, who has sailed with the firm for 30 years through the many good and difficult times, Ms. Loo Siew Peng, Cik Zuzana binti Uyup and Encik Faizol bin Mohd Sah who have tirelessly contributed to the firm for 10 years.
After cake-cutting and photographing sessions, the firm handed out goodie bags to the staff members as a momento. Fellow staff members parted and returned to their respective work stations with a full stomach and an even fuller heart.
Unveilling our 40th Anniversary banner.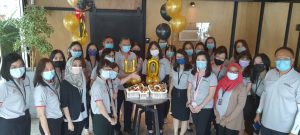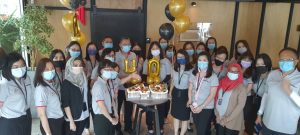 Service Awards
                                                                                  Chew Bee Hong – 40 years service award
          (Conveyancing Legal Secretary)
                                                                                     Molly Tan Gek Moi –  30 years service award
       (Litigation Legal Secretary)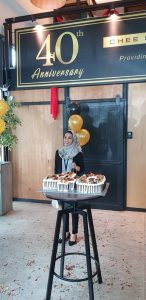 Loo Siew Peng – 10 years service award
                                                                                    (Conveyancing Legal Secretary)
                                                                                        Zuzana Ayob  – 10 years service award
                                                                                       (Account clerk)
                                                                                      Faizol Md. Sah – 10 years service award
                                                                                      (Driver)