14 Jun

Yogyakarta 13-16 April 2018

The world's largest archipelago has a hidden gem many tourists overlook. We visited this beautifully undisturbed city which is often overshadowed by the more touristy cities of Indonesia. One thing for sure, we were blown away by not only her amazing sights but also all the adrenaline-pumping activities she offers.

We arrived in Jogja as the local refer in the late evening. We had our welcoming dinner at local restaurant Pringsewu in Pagukan district. After the hearty meals, we endure a long journey to our hotel in Magelang where Borobudur, one of the 7 wonders of the world and the world's largest Buddhist temple located.

Next morning, we were waken at 4am and proceed to Borobudur temple for the spectacular sunrise view. To our dismay, it was a cloudy and misty day. Nevertheless we enjoyed the cooling and refreshing air.

After our breakfast, we proceed to the foot of the Mount Merapi for our 4X4 endurance. Mount Merapi are one of the most active volcano in Indonesia. According to our local tour guide, it is due to erupt. Last eruption was in 2010. The damaged  somehow was less severed than the eruption in 2006. We were lucky because Mount Merapi erupted again on May 11,2018, 25 days after our trip.

Day 3, Shopping time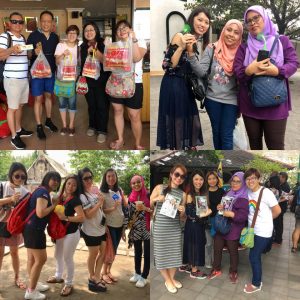 Bakpia are small, round-shaped Indonesian Chinese-influenced sweet rolls (similar to our Tau Sah Pia), usually stuffed with mung beans. They are one of jogja's specialties.
Then we visited a batik factory.
After a sumptuous lunch, our next stop is Mangunan Pine Forest.As the name implies,  there is a row of towering pines to cover the entire area. The fresh and shady nature of natures makes the experience of entering the forest more fun and challenging
On the last day of our trip, we visited the Sultan's palace and water castle.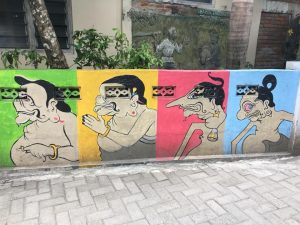 After lunch, we proceed to the airport for our flight back home.